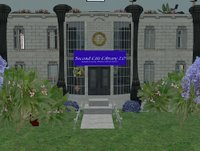 Link between gamers and libraries
Jenny Levine (The Shifted Librarian)
posted
about the creation of a special library program INSIDE the popular online virtual live game,
SecondLife
!
"Alliance Library System(http://www.alliancelibrarysystem.com/) and OPAL (Online Programming for All Libraries) – (http://www.opal-online.org/) are pleased to announce that selected OPAL programs will soon be offered in the online virtual reality game Second Life (http://www.secondlife.com/). Book discussions, training sessions, and other programs will be offered to current virtual residents. The goal of the project is to promote the real library and online library services to adults who might not otherwise use the library."
Wait! Stop! This is too much for me. Are we now chasing after our users who are willingly and knowingly left the library, because what we offer is not relevant for them, presented the wrong way, or whatever .. and got into a online game to do .... anything but learning and searching? I am all for getting into the user's environment and see the positive things in getting visible -as a library- in all kinds of user communities, but this seems a little weird. If we can not succeed in effective library programs in real life, why should this suddenly work in virtual life? But, I am certainly curious enough to find out more and just registered for a free SL-account .... and the http://groups.google.com/group/alliancesecondlife.